Product Bio Dietetic & Natural is a unique space where the welfare combines natural.
BIO fruits and vegetables: more taste, less pesticide
What is the difference between organic fruit and vegetables and others?
Look more irregular and slightly higher prices, but also better taste, more vitamins and minerals, less water and pesticides in biological products !
Recognize "BIO" fruits and vegetables
Bio fruits and vegetables in a basket :
Visually first, the fruit or vegetable from organic farming is often somewhat irregular and less "attractive" :

Form "non-standard" carrot not straight, apple asymmetric,

Colour Not uniform: good tomato red sunny side, and bearing marks slightly yellow side which led to the shade leaves,

Heterogeneous sizes: large zucchini and smaller,

Smaller sizes: giant cauliflower or elephantine apples are full of water and doped with chemical fertilizers !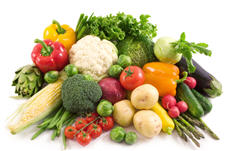 Fruits and vegetables are often more irregular, smaller than the non-organic products.
It was not like eating product cloned, polished, sanitized, and a little more sense to deal with a natural product...




Baskets of fruit and vegetables / farmers and local near you !